Happy 2016!! What is your favorite New Year's tradition? In the U.S. I have always enjoyed celebrating New Year's Eve at my parent's house making a HUGE spread of appetizers. We've done it ever since I can remember. Everything from crab legs to little smokies make a happy appearance.
I have had both good and bad experiences spending New Year's Eve in other countries. My worst memory is getting sick in Ecuador on New Year's Eve. Explaining that I was sick, and not hungover, to my host mom in broken Spanish wasn't all that easy.
Celebrating New Year's in Spain
Celebrating the New Year in Spain, on the other hand, conjures up much more pleasant memories. Crowded city streets, a mouthful of grapes, and churros con chocolate all come to mind. It's the grapes that I want to talk to you about today.
Twelve Grapes In Twelve Seconds
Popular Tradition in Spain: To eat twelve grapes in twelve seconds. Participants try to consume one grape for each of the twelve chimes of the clock at midnight. If successful, the grape master is said to experience a year of prosperity.
Typical Results: Lots of laughter and a floor covered with grape particles.
Origin: Apparently the tradition was established in the early 1900's in the Spanish region Alicante by some vine growers looking to cash in on an abundant grape harvest.
Popular Grape Eating Locations: 
In family homes throughout Spain
In the main public city plaza
The most famous city plaza is the Puerta del Sol in the capital Madrid
Video of A Family Eating Grapes on New Year's
It's one thing to describe this tradition, but wouldn't you like to see it? Thankfully, I found this video of a family in Spain chowing down on grapes on New Year's. It's hilarious…
Color By Number Grape Printable
Finally, I'd like to leave you with a printable to commemorate this grape eating tradition. The word grapes in Spanish is uvas. So I numbered twelve uvas with corresponding colors in Spanish for kids to color. It looks like this.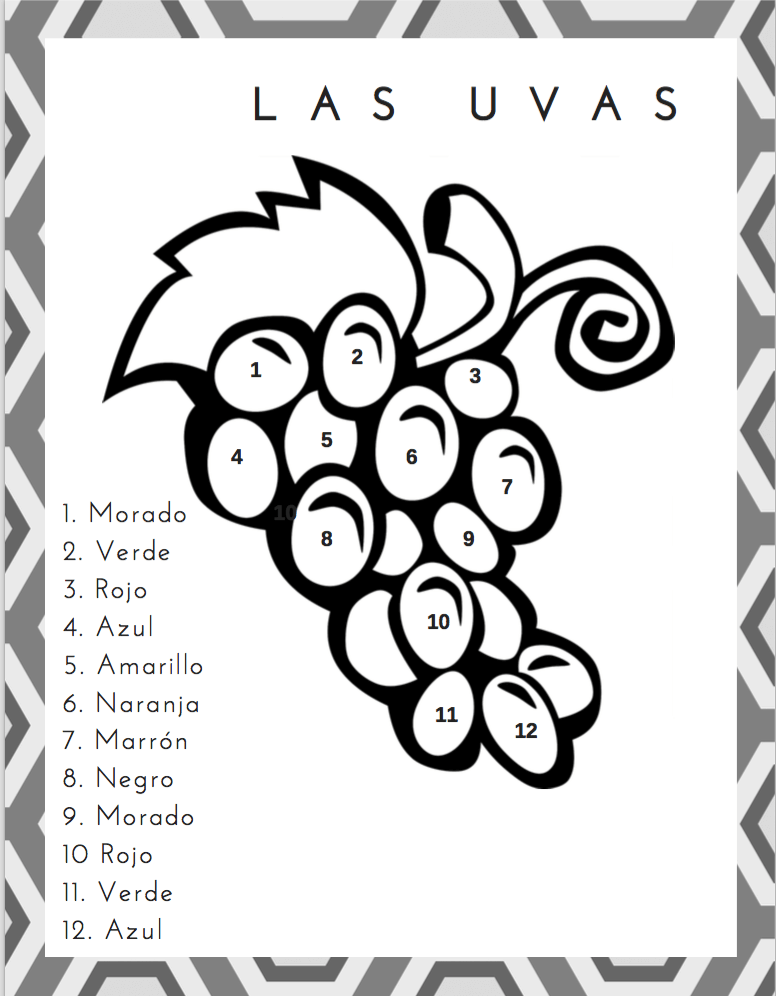 You can download it by clicking the button below. I also have an answer key for you at the bottom of this post.

Answer Key
Purple
Green
Red
Blue
Yellow
Orange
Brown
Black
Purple
Red
Green
Blue
And there you have it. I hope you enjoyed learning about New Year's in Spain!
Will you try eating twelve grapes in twelve seconds to welcome 2016?