Estoy agradecida por…
I'm thankful for…
The opportunity to connect with all of you through Mommy Maleta
A beautiful world to explore one suitcase at a time
Amigos y familia (friends and family) who make it fun to explore the world
Warm seasonal drinks…

caramel apple cider

and

easy pumpkin spiced lattes

anyone?
THANKSGIVING FREEBIES IN SPANISH!
I don't want to keep #5 all to myself so I thought I'd jot these freebies down to share with all of you! (Admittedly, #4 is tempting to keep all to myself, but the recipes linked above make plenty to go around)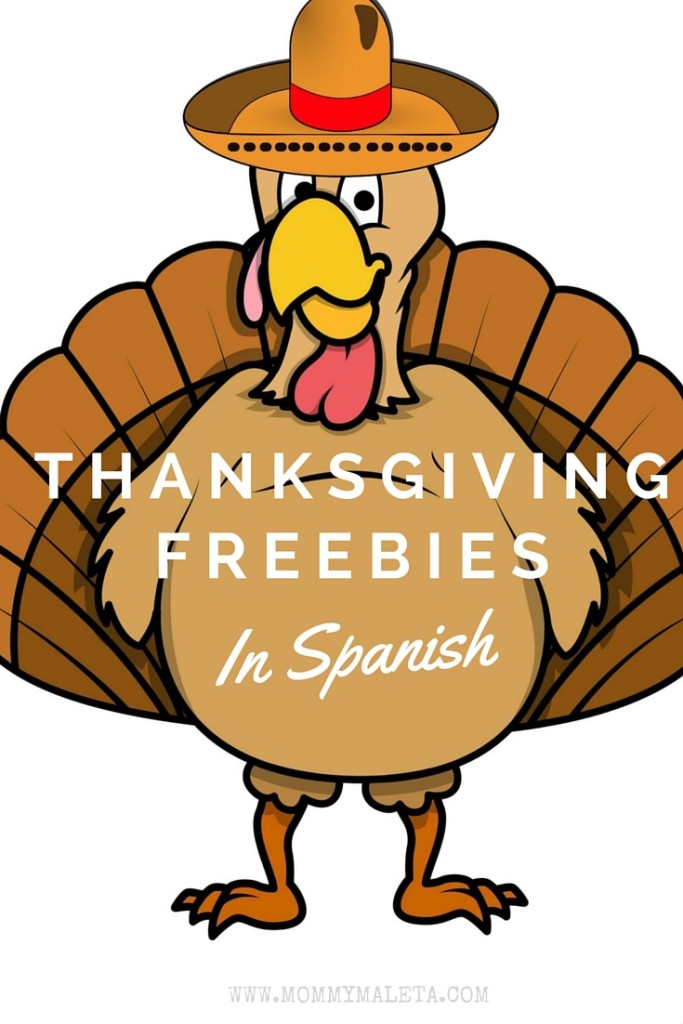 Bilingual Holiday Video
This is not exclusive to Thanksgiving, but it's a nicely produced bilingual video, that makes it easy to practice the names of holidays in Spanish.
Estoy Agradecida Por/I'm Thankful For Printable
This is a cute one page printable over at Island Teacher that kids can color and use to list items they are thankful for in Spanish. Keep reading to find out how I used a video to reinforce vocabulary from a turkey song with this worksheet.
Yo Soy Un Pavo/I'm A Turkey Video
Here's a link to a song called Yo Soy Un Pavo that I found while wandering over at Fun For Spanish Teachers. It teaches some turkey vocabulary that pairs perfectly with the printable above. My daughter watched the video and labeled the turkey to reinforce the new vocab terms including wings and beak that she learned from the song. She also wrote down the colors of the feathers in Spanish.
In case you are not a Spanish speaker, here's a little cheat sheet of the vocabulary words in the song.
Grande – big
Gordo – fat
Pico – beak
Alas – wings
Cola – tail
Librito De Gracias/My Little Thanksgiving Book
Finally, check out this darling librito de gracias over at Spanish Mama. Geared towards pre-K kids this printable includes traceable sentences in Spanish with plenty of room for kiddos to draw pictures expressing their gratitude.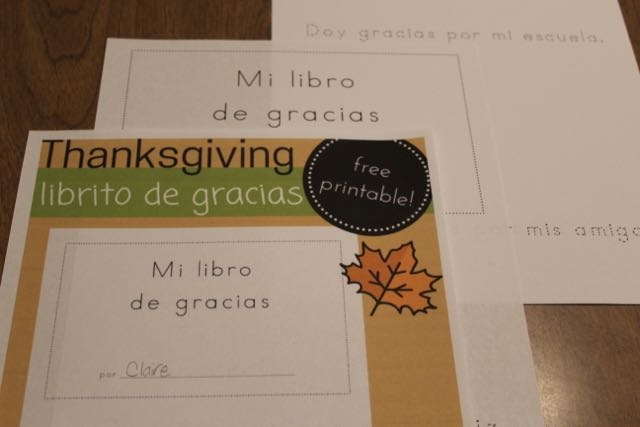 I hope you enjoy this list of Thanksgiving freebies in Spanish and soon find yourself with a house full of youngsters gobbling in Spanish! And just in case want to find even more recipes for warm, seasonal drinks I told you I'm thankful for, head over to my beverage board on Pinterest. It's full of warm, soothing goodness for the any day or the holidays!