Fruit, yogurt, and a pitcher of water. I scribbled those three items down in my journal while living in Santander, Spain as an exchange student. My abuela, or grandma, in Spain spent the mornings cooking the most delicious meals. Then our family pulled the little stools out from under the square table that was pushed up against the wall in the kitchen and ate our three course meal at the traditional 2 o'clock hour.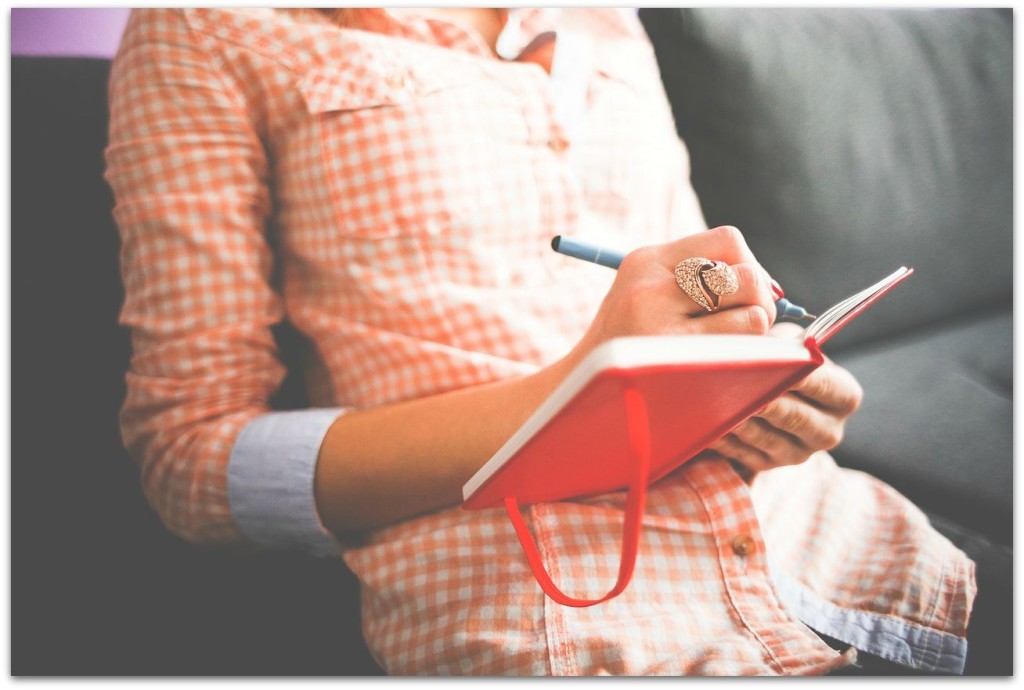 I loved the large pitcher of water that joined our table like an old friend each afternoon. I also thoroughly enjoyed finishing the meal off with a piece of fruit, or small carton of yogurt. I liked the custom so much that I that I jotted the items down in my journal, determining that someday when I had a family of my own, I'd carry on the tradition.
My travels abroad have also inspired me to teach my children Spanish. And now that God has blessed me with three kiddos, I'm working on it. Some days are better than others, but one thing that helps me stay on task, is using Spanish resources that I find online.
It's nice when I find resources that tie into current seasons or holidays. With Halloween just around the corner, I did a little searching, and hit the jackpot by finding some great Halloween freebies in Spanish!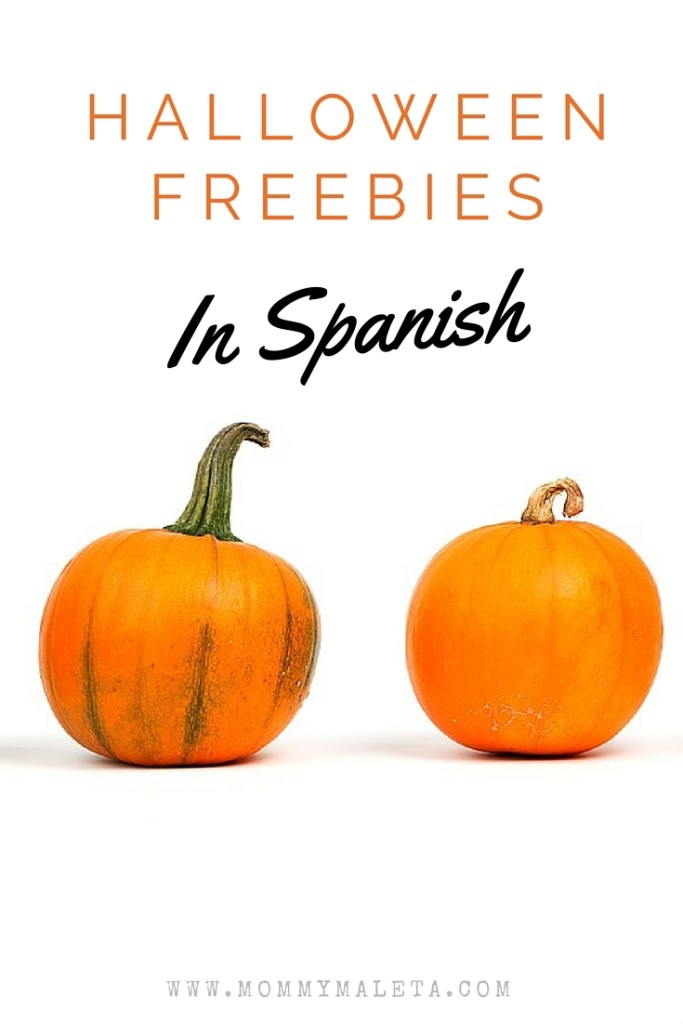 Pumpkin Face Printable
I found some great printables at a site I found called Fun for Spanish Teachers. I love the pumpkin face freebie and that I found.
I printed the pumpkin face freebie right away so my girls could brush up on their "parts of the face" vocabulary when they got home from school. Basically, kids can cut out sets of eyes, a nose, and a mouth. Then they mix and match the pieces and arrange them on a large pumpkin outline to create a face. Finally,  they label the parts with Spanish words. It's kind of like a pumpkin cut out version of Mr. Potato Head.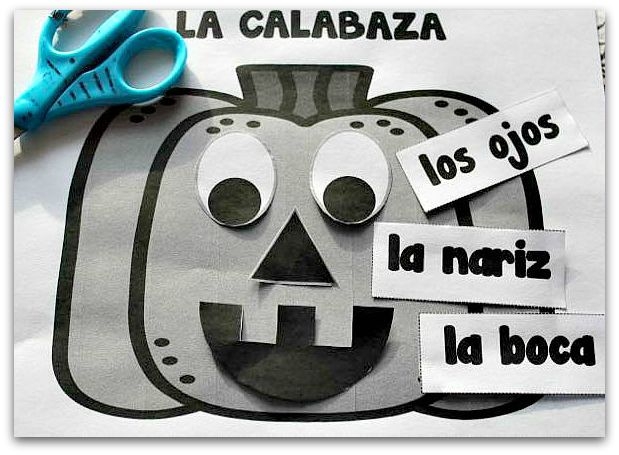 The pumpkin and pieces can be laminated for long term classroom use. Kids can also get creative and learn more Spanish vocabulary by adding other pumpkin parts. They can use yarn to add hair to the pumpkin or curl black strips of construction paper for eyelashes.
Halloween Freebie Set – "Trick-or-Treat"
This entire set of Halloween freebies is also great. There are finger puppets, flashcards, and little booklets. My favorite part, however, is the little printable set of Halloween rhymes. They are basically mini poems kids can recite in order to trick-or-treat. I have never seen these before!
Halloween Fun Pack
This next printable resource from Spanish For You is not free, but I think it is well worth the money. I like to give my kids little treat bags on Halloween that don't include candy since they get plenty of it from parties, trick-or-treating etc. Even the little treat bags can get to be the same old, same old though. This fun 29 page packet would be a great replacement!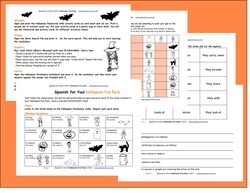 Halloween Videos in Spanish
I like Halloween and the fun of dressing up in costumes and carving pumpkins. I'm not really into scaring little kids though. So I was happy to find these cute little Halloween videos that teach kids Spanish without any scary side effects. The first video teaches some great emotion vocabulary, and the second video teaches children to count.
The first video is called Cinco Calabazas which means Five Pumpkins.
The second video is called Sing and Count to Ten in Spanish with Halloween Pumpkins and SingALingo.
I hope you enjoy all these great Halloween freebies in Spanish. I think they are such a fun way to teach children Spanish. And by the way, I meant to tell you, I'm one for three with the list I mentioned at the beginning of my post. A pitcher of water makes it's way to our dinner table every night…
Be sure to check out more of my posts on my Pinterest board below!
Follow Mommy Maleta's board Explore Mommy Maleta's Best on Pinterest.