If you are a teacher or a homeschool mom with a busy schedule and a desire to supplement your income, you may have asked yourself…Can I Make Money Quickly Teaching ESL Online?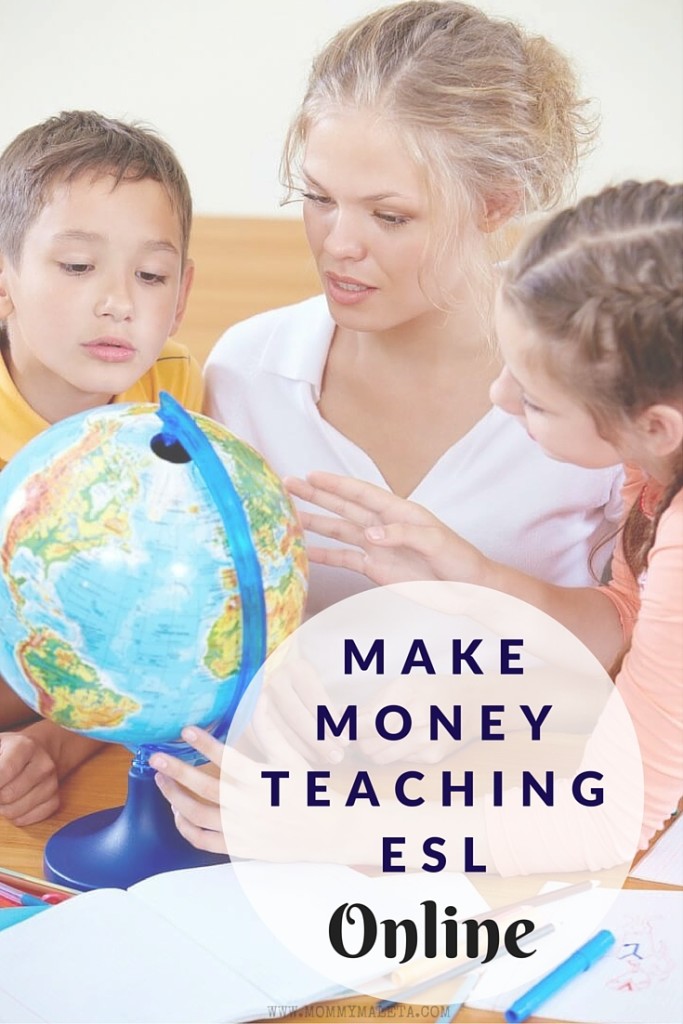 *This post contains affiliate links which help support Mommy Maleta at no additional cost to you
Let me start off by saying that when I mention the term "make money quickly", I'm talking about a 1-2 month time frame, NOT overnight. So, can you make money in 1-2 months teaching ESL online?
Yes! I recently began teaching English to children in China with a company called VIPKID. I use detailed, company provided power point presentations that correspond with the VIPKID curriculum to teach students English.
Would you like to see an example of a teaching slide? …OK, coming right up. Here's a screen shot of a warm-up activity slide that you would use at the beginning of your 25 minute class.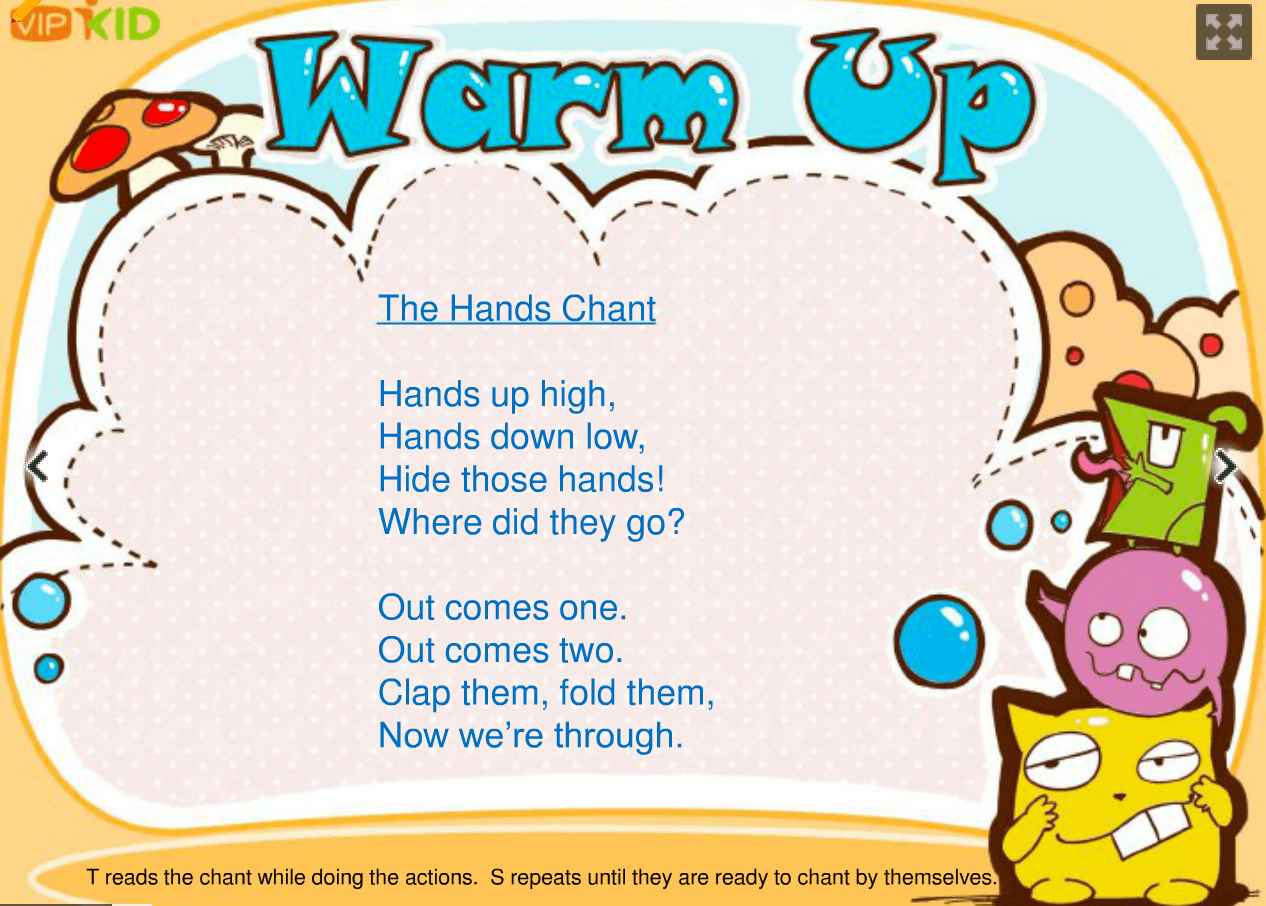 I teach children, one on one, using songs, games, phonics activities, stories, and more. Some handy teaching materials that I use are white boards, flashcards, puppets, and reward charts. Here's a photo of some of the supplies that help me connect with the kids I teach. (The finger puppets are my favorite!)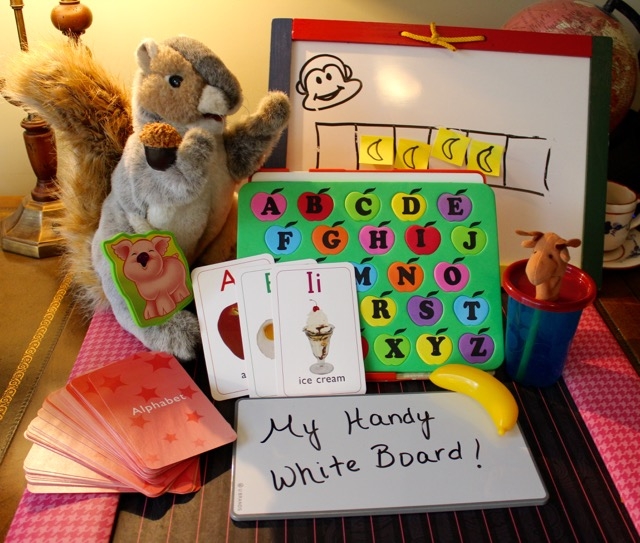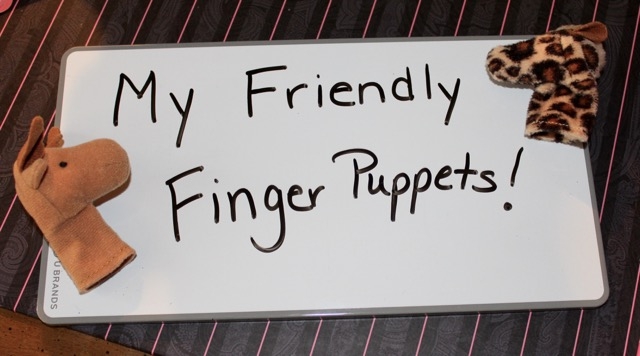 How Do I Start Working With VIPKID?
Start by clicking this link: VIPKID …you will find information about the company as well as a section that says JOIN US at the bottom of the page. Under this section you'll find what VIPKID offers their employees and their job requirements. If you have a decent amount of experience teaching children in a traditional school, homeschool, church, or other similar setting, I encourage you to apply. A lot of my experience actually comes from teaching tennis to young children on a weekly basis.
After clicking the JOIN US button, sign up for an account with VIPKID and submit an online form, attach a resume, and any other requested documents.
Wait for an email response from VIPKID to set up an interview. They usually reply pretty quickly, especially considering the time in Beijing in 12 hours ahead of my time zone.
Just a note about the interview. You will talk to a VIPKID employee live over Skype. He'll ask you a few questions and then you'll conduct a mini class that the company prepares you for ahead of time through video tutorials. You will want to pay close attention to the tutorials. They are not looking for perfection, but you must be well prepared.
In the class the employee pretends to be a young child who doesn't understand much English. You will use simple language and model basic English exercises to communicate the lesson to him. It's fun! It's also amazing to take a peek inside the office in Beijing where VIPKID is based.
How Many Hours Will I Need To Work?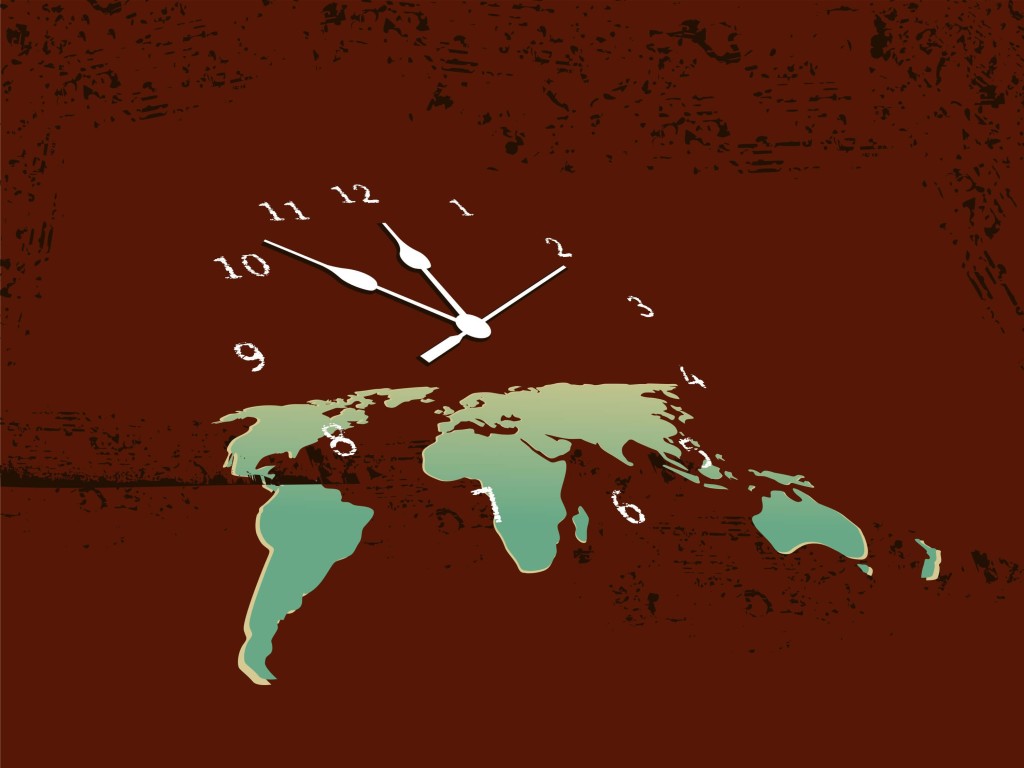 One of the non-negotiables is that you will be required to be available for 7.5 hours per week during VIPKID's peak hours. The peak hours are Monday through Friday, between 6:00 to 10:00 pm, and on Saturday and Sunday from 9:00 am to 11:00 am, and 6:00 pm to 10:00 pm (Beijing time).
Summer Peak hours are from 9:00 am to ­11:00 am and 6:00 pm to 10:00 pm (Beijing time) every day. Summer Peak hours are observed from the middle of July until the end of August.
For those living in the western hemisphere that means getting up pretty early. I am currently exactly 12 hours behind Beijing time. So if I teach a student at 6 p.m. in Beijing, it is 6 a.m. for me. I actually like this because I can teach before my kids wake up.
The other thing to note is that you need to fill out availability for 7.5 hours, but all of those slots may not fill up.
Will I Receive Training?
Yes! If you successfully complete the interview process, you will receive extensive training through video tutorials about how to teach VIPKID classes. You'll learn about TPR (total physical response) and other techniques that will help you and your student forget about the screen and get immersed in the lesson.
You will have a limited amount of time to complete the training, but it does keep the process moving so that you can start teaching as soon as possible!
How Much Can I Expect To Earn?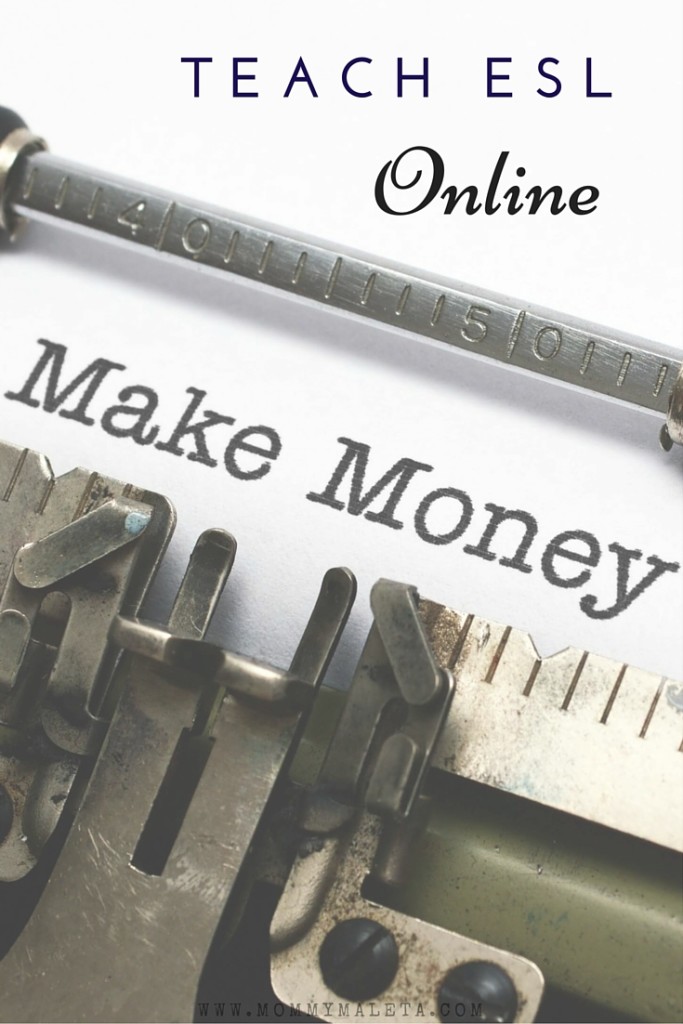 The short answer is you can expect to earn about $15-18 an hour for your first pay period (which will probably be less than one month long depending on the date you start teaching your first class). You can increase to about $19 an hour by your second month in. And if your contract reviews go well, you'll  potentially increase to about $22 an hour.
Remember, these are estimates. I'll explain the reason for the variation in the section below.
Why The Variation On Pay Rate?
The short answer for this question is because there is a base pay and bonuses. Here is the basic breakdown:
Base Pay = $7.50 per 25 minute class
Bonuses: Attendance Bonus – for each finished class you will receive a $1 bonus (so basically as long as you show up and teach the class, even if the student doesn't end up showing up, you receive this bonus)
Commitment Bonus – This has to do with the total amount of classes taught in the month long pay period. If you teach less than 30 classes a month there is no bonus. If you teach 30-45 classes in a pay period, you receive a $.50 per class bonus. If you teach more than 45 classes in a pay period, you receive a $1 per class bonus. Here's another way of looking at it…
# of finished classes < 30 = $0
# of finished classes >=30 but < 45 = $.50
# of finished classes >= 45 = $1

So, look at it this way, if you teach 12 classes (remembering a class in only 25 minutes) per week and finish all of them, you'll receive $9.50 per class. That's $19 an hour.
Trial Classes & Building Your Booking Rate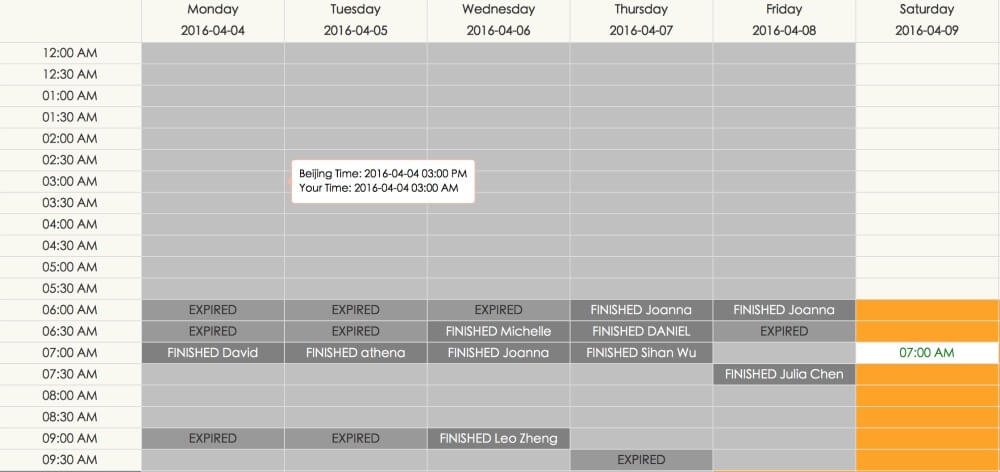 Here's where things get slightly tricky. There are regular classes with students who already signed up with VIPKID, and there are trial classes. Trial classes are sessions with prospective students who are deciding whether or not to join the VIPKID program.
Teachers are only paid 50% of the normal base pay when teaching a trial class, because these are classes that the student is not paying for. On the up side, teachers receive a $5 bonus if the prospective student joins VIPKID. There is also a good possibility that the student may book regular classes with their trial teacher if they decide to join.
So while teaching trial classes, could decrease your hourly pay rate in the short term, they have the potential to help you build your booking rate in the long term.
In the graphic above you can see a screen shot of one of my weekly schedules. You can see that I finished teaching 10 classes. The boxes labeled "expired" show teaching slots that I marked available, that were never booked.
As I progress with VIPKID and become a more experienced teacher, teach more trial classes, and implement some of the marketing strategies that VIPKID recommends (such as reading and recording short stories in English for students), I hope to see my booking rate increase. In other words, I hope most of my available slots will be filled each week.
I love Working For VIPKID From Home – Join Me!
I have really enjoyed working from home with VIPKID. I meet new children in China everyday which fascinates me. I have the privilege of "stepping into their home" to teach them English in a fun, exciting way. Plus I am positively challenged, but not overwhelmed by the work.
I am also thankful for the flexibility teaching ESL from home gives me with my family and schedule. I feel like I can use my teaching skills in a rewarding way and still care for my kids and home.
I hope this post helps you answer the question: "Can I make money quickly teaching ESL online?" I'd love for you to join me and the wonderful VIPKID team and make a difference in the lives of children. Click the words JOIN ME to get started teaching ESL online today.