You know you're a world traveler when you remember countries you've visited based on beans. Black beans: Costa Rica. Red beans: Nicaragua. Garbanzo Beans: Spain. You get the idea. Often eaten for breakfast, lunch, or dinner, beans are a way of life in many lands.
To finish off our latest exploration series at Mommy Maleta, let's look at a quick way to taste Uganda with beans and rice. Pinto beans and white rice, in this case.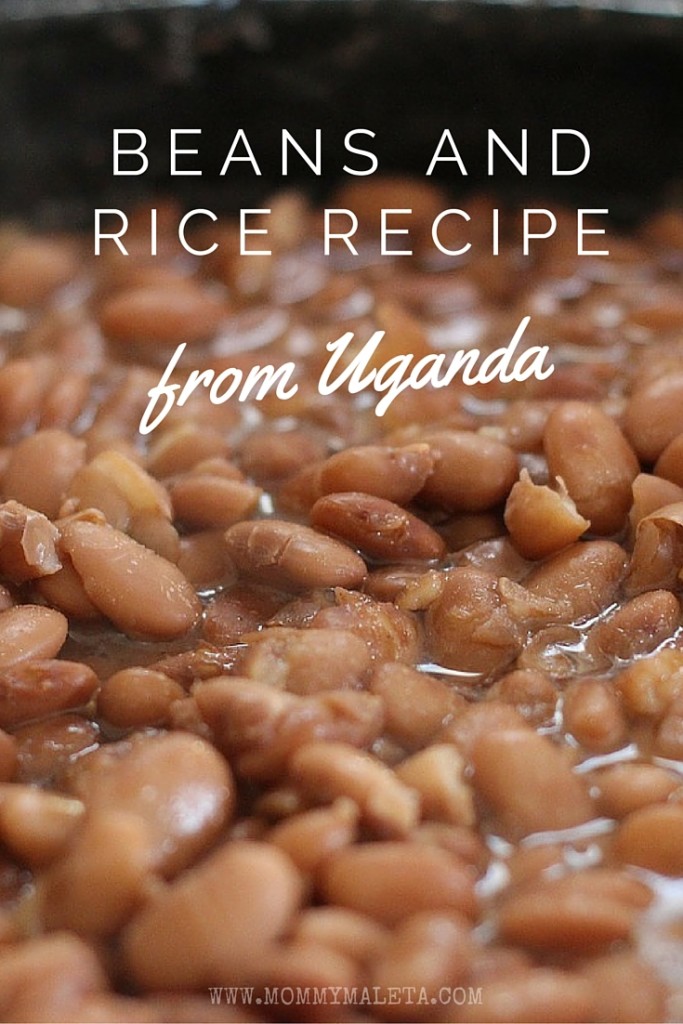 Now, when I say quick, I mean that the preparation is quick. I even defy most recipes for dried beans by not soaking the beans overnight (though you can certainly soak if you wish). The beans themselves, however, do cook on low for 8 hours or so in a crockpot.
Taste of Uganda Beans and Rice
Ingredients
24 oz bag dried pinto beans
4 oz (1/2 package) uncured salt pork, freeze the remainder for another use
1 - 2 Tbsp olive oil
1 onion, chopped
3 carrots, chopped in small rounds or julienne style
1 clove garlic, minced
14 oz can petite tomatoes, drained
1 tsp Better Than Bouillon beef base (or bouillon cube)
salt and pepper to taste
4-6 servings of cooked white rice
Instructions
Empty about 3/4 of a 24 oz bag of dried beans in a strainer.
Rinse the beans well and discard any small stones or undesirable looking beans that may have snuck in there
Place the beans in a 5-6 quart crockpot and cover with water, about 1 or 2 inches from the top.
Cook on low for 8 hours
Prepare 4-6 servings of white rice if you haven't already
About 20 minutes before the beans are finished cooking, sauté the chopped onion and garlic until softened in a large pan
Add the carrots, tomatoes, beef base, salt and pepper to pan and cook until carrots are tender
Add vegetable mixture to beans in the crockpot and mix well
Serve beans over, or alongside white rice
http://mommymaleta.com/recipes/heres-a-quick-way-to-taste-uganda-with-beans-and-rice/
Recipe inspired by Ugandan Beans and Rice over at Sseko
While I was researching this post I discovered some other Ugandan recipes, including these samosas over at Gimme Some Oven, that look amazing. I really enjoyed Ali's post because she introduced me to an extraordinary company called Sseko Designs. They make beautifully designed sandals and other accessories, but more importantly, Sseko implements a very specific strategy to employ Ugandan women so they can break out of poverty. You can see the strategy at work in this short video.
Sseko Way from Sseko Designs on Vimeo.
I also found a Ugandan cookbook in the blog portion of Sseko's website. It contains the recipe which inspired this post and many others. Try making one of the recipes with a friend and share the Sseko story!
I'm planning to go to Nicaragua with a Living Waters team at the end of January to distribute 2,000 backpacks to children so they can go to school in February 2016 (more details to come in future posts). I think I'm going to ask Santa for a pair of Sseko sandals to wear on the trip. : )
I do sincerely hope this post helps you discover a quick way to taste Uganda with beans and rice. To discover more about Uganda be sure to check out the first 3 posts in this series:
Week 1: Explore Uganda
Week 2: Meet Sarah at International Blessings
Week 3: Make This Craft: Jewelry With Paper Beads