Q:  Hi Summer. Thanks so much for agreeing to do this interview. I'm sure our readers will be fascinated to learn about your home country Holland. First of all can you tell me what city or town you live in and a bit about what your life is like there?  Do you have a large family? Tell me a little about them.
 A:  I live in the city of Dieren and on a normal weekday I go to school from 08:30-14:00*. On Saturdays we normally go to the soccer field and on Sundays we hang out as a family after we have gone to church. We love to watch a movie as a family and eat popcorn, cheese and apples! And then it is tickle time with my dad (papa) and we have some family time together with my parents (Stef and Christy), my brother Hunter (1,5) and Brooke (5) before we go to bed.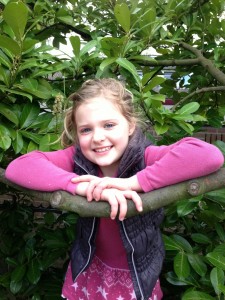 Q:  How old are you Summer? What are some games and/or sports that children like to play in Holland? Do you enjoy these games/sports?
A: I just turned 8 years old on July 15th. I love to play games such as Uno, or on the WII sports there are several games I like and I like to craft and sing. At school I play with my friends different tag games and throughout the week I go to Dance. Normally the boys love to play soccer which I Iove to play too. Girls normally like gymnastics and dance.
 Q: Could you describe your country's flag?  Tell me a bit about the colors and design and why they were chosen?

A:  The national flag of the Netherland's colours* are officially described as bright vermillion, silver and cobalt blue. The top band colour was originally orange, but as the orange dye was particularly unstable and tended to turn red after a while, it was substituted with red in the mid-17th century. The flag was reaffirmed by a royal decree on Feb. 19, 1937. The flag of Luxembourg bears a close resemblance to the Netherlands flag, but both flags were developed independently. The blue colour of the Luxembourg flag is brighter.
Q:  What language(s) is/are spoken in your country?  Can you tell us the words for "Hello, how are you" in that language?
A:  We speak Dutch and in one province, or state, they speak a dialect called Fries. So with my father I speak Dutch and with my mother I speak English. She is from the States. At school I speak Dutch and sometimes English when we have English class. In Dutch we say, " Hallo, hoe gaat het met jou?"
 Q:  What are some of your favorite places to visit in Holland?
 A:  Favorite places are amusement parks (Efteling and Juliana Toren) and the beach (whole west coast is beach). We also have a family membership to the Royal Burgers' Zoo in Arnhem, a town which is close to our home.
Summer, thank you so much! You did a great job answering all of these questions. I'm glad we could find out more about your life in Holland. If anyone would like to thank Summer for sharing with us please let her know by leaving a comment.
*Teaching Points
I love interviews because they provide so many learning opportunities. I starred a couple of items that Summer mentioned that you may not be familiar with. I'll explain them below.
Military Time – Summer mentioned she goes to school from 08:30-14:00. That means 8:30 am – 2:00 pm. Instead of dividing up the day into 12 hour shifts of am and pm, the day is counted with the entire 24 hours.  So 1:00 pm becomes 13:00, 2 pm becomes 14:00 and so on. In the United States this is referred to as military time.
British English – Did you notice the word color is spelled colour? That's because there are some differences between the way English is spoken in the United Kingdom and the United States. Often times students in European countries learn British English.
This Post Has Been Linked To:
Simply Sweet Home
Tidy Mom
Titus Tuesdays