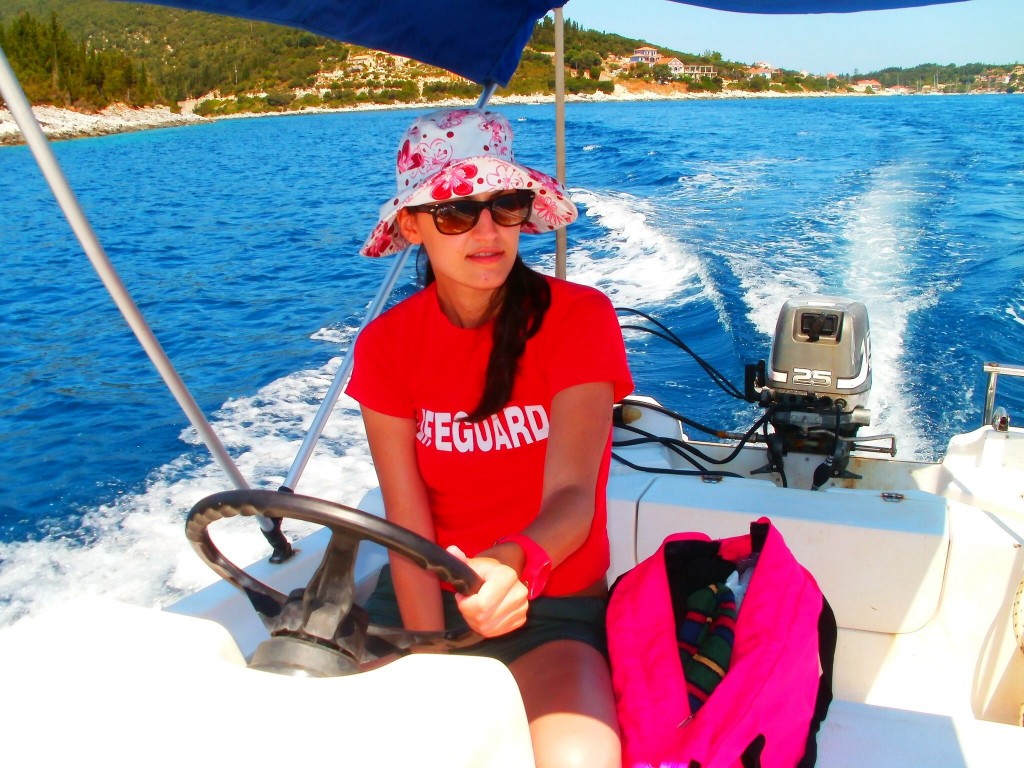 I love connections. In one of my graduate classes I believe I heard the statistic that we are only 9 connections away from contacting anyone in the world. I took that class about 16 years ago so that number may have easily decreased. For this Greece Interview I was only 2 connections away from Stacey, the young lady I had the privilege of virtually meeting. She is the cousin of a friend of mine whom I met when our girls started playing tennis. I probably sound old saying this, but it really is amazing how technology connects us to people so quickly even when we are continents apart.
But anyways, let's get to the interview so we can find out what Stacey's life is like in Greece.
Q:  Thanks so much for agreeing to do this interview. I'm sure our readers will be fascinated to learn about your home country Greece. First of all, can you tell me what city or town you live in and a bit about what life is like there?
A:  Hello from sunny Greece! I'm glad to share this information with your readers. My name is Stacey and I've lived in a suburb all my life by the port city of Piraeus. It is 5 km away from our country's historical capital, Athens. The word Piraeus means "going across", since 3,000 years ago it was an island.
It is a city that never sleeps. People enjoy a late drink out with friends no matter what, even after an exhausting day at work and even if it means getting sleep deprived.
Ships are constantly sailing off to many destinations in Greece and abroad. There are many archaeological sites, department stores, apartment buildings and terrific nightlife by the seashore.
You don't see a lot of green in our city. Most of the trees were chopped down during the second world war. We root for the club named Olympiacos, 3 time European champions in basketball.
What I truly enjoy about living here is that every place of interest is within walking distance and you get to see a drastic change of scenery (sea shores, forests, the mount of Acropolis) by taking a 20 minute car trip in different directions. A ferry, for example, can take you across to the island of Salamis in just half an hour.
Salamis Island is known for the Battle of Salamis, the decisive naval victory of the allied Greek fleet, led by Themistocles, over the Persian Empire in 480 BC.
Q:  Do you have a large family? Tell me a bit about them.
A:  I am a biopathologist and until very recently used to work in a hospital 200 meters away from the shore. I am happily married to my husband Panayiotis. He is an anaesthesist and we met at university 15 years ago. I have 2 sisters, both younger than me. Renee is a neurologist and Christina is a speech therapist. My father is a cardiologist and my mother used to work for the Illuminating Company in Cleveland before she moved to Greece permanently and married my dad. She is Greek as well, born on the beautiful island of Samos.
Q:  What is your favorite Greek food?
A:  My favorite Greek food is souvlaki! A popular fast food consisting of small pieces of meat and sometimes vegetables grilled on a skewer. It may be served on the skewer for eating out of hand, in a pita sandwich with garnishes and sauces or on a dinner plate often with fried potatoes. The meat usually used in Greece and Cyprus is pork, although chicken and lamb may also be used. Got to have some when watching a game or when I'm on the go…
Q:  Could you describe your country's flag? Tell me a bit about the colors and design and why they were chosen?
A:  This is our flag. Traditionally, it's the first flag to be carried in the stadium during each Olympics' opening ceremony. The Greek flag consists of an equal-armed white cross on a blue background in the upper left corner of the flag, with the remaining area filled with nine alternating blue and white horizontal stripes. The top and bottom stripes of the flag are always blue. There are five blue stripes and four white ones.
Meanings & Symbolism of the Greek flag
9 Stripes – Represents the number of syllables in the Greek phrase "Eleutheria H Thanatos", usually translated as "Freedom or Death!", a battle cry during the final revolt against the Ottoman Occupation.
Equal Armed Cross – Represents the Greek Orthodox church, the predominant religion of Greece and the only officially recognized one. The church played a crucial role in the fight for independence against the Ottomans, and rebellious monks fought vigrously against the Ottomans.
Color Blue – Represents the sea which is so important to Greece and a major portion of its economy. Also a color of protection, seen in the blue eye amulets used to ward off evil.
Color White – Represents the waves on the ocean and is also seen as the color of purity.
Q: What are some popular places to visit in Greece? And where do you recommend our readers visit if they were to win a dream vacation to Greece?
A:  There are so many places worth visiting (islands, lakes etc.), it is difficult to pick out just a few. But if it were up to me, I would definitely visit the Parthenon and the spectacular state of the art museum of Acropolis. Then head to the nearby area called the Plaka to enjoy live Greek music while eating traditional Greek food.
Take off the next day for island hopping! One must visit the island of Santorini formed by the eruption of a volcano.
The island of Mykonos is awesome for nightlife and beaches…
Crete and Rhodes with medieval castles…
And of course the island I come from Samos. So much green…good wine, honey and olive oil to die for. Truly beautiful islands of the Aegean Sea.
If you prefer to visit islands of the Ionian Sea, I would recommend Leukada, the island called Zakynthos with the famous shipwreck or the Paxi islands.
If you'd like to visit an island with great history and taste, Corfu is just the place to visit and then take the ferry across to visit the beautiful city of Ioannina (on the mainland) with its famous lake.
Hope I've been helpful! Thank you for the wonderful opportunity of giving you a small glimpse of the beautiful land we are fortunate to call our home.
– Stacey, thank you so much. You have been more than helpful. You have done an amazing job of giving us a virtual tour of an equally amazing country. And I do think you are fortunate to call Greece your home. I have to admit I was tempted to stop writing this post so I could go to my nearest travel agent and book the next flight to Athens.
If any of our readers would like to thank Stacey, please leave a comment to let her know!
*All photos are courtesy of the free media repository on Wikimedia