Hi Sarah. I'm really excited to interview you today. We are currently exploring the country Uganda at Mommy Maleta and I know that your company called International Blessings supports women who work in Uganda.
So I have two goals today. First, I want our readers to find out more about Uganda from you because you have traveled there. Secondly, I want our readers to know how your company helps Ugandan women and their local economy. Let's get started.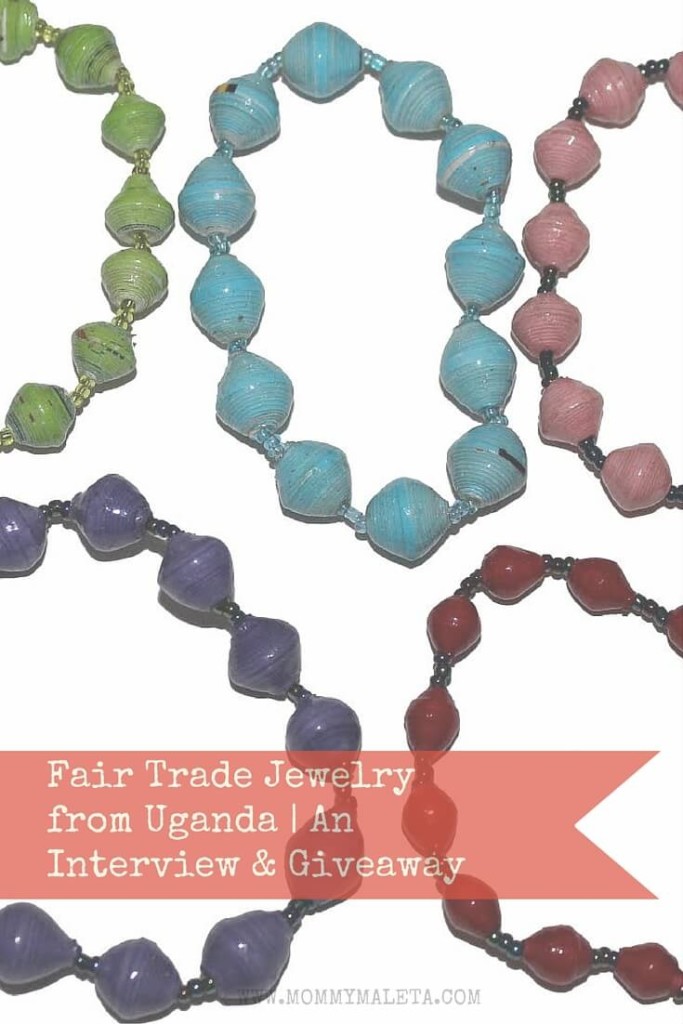 Q: When and why did you travel to Uganda? What parts of Uganda did you visit? How could our readers find Uganda on a world map?
I traveled to Uganda in February of 2009. It was part of the World Race, which is 11 months in 11 countries serving people, while sharing God's love. During my trip, I was mostly near Gulu in the northern area of Uganda. We lived in a concrete schoolhouse, sleeping in our tents near an IDP (Internationally/Internally Displaced Persons) Camp. We also stayed in Kampala and Jinja which are both in the south. Our visit to Jinja was to go white water rafting on the Nile River!!
Uganda is located in East Africa. It is a landlocked nation, bordered by South Sudan, Ethiopia, Kenya, Rwanda, and the Democratic Republic of the Congo. It also contains part of Lake Victoria.
Q:  What language do people speak in Uganda? Did you learn to say anything in that language while you were there?
There are 42 or more native languages in Uganda, but most of those fall into 3 catergories – Bantu, Nilotic, and Central Sudanic. The main languages include English, inherited from the colonial period, and Swahili.  I did learn several phrases like hello, how are you, how much, etc. But I do not remember them anymore.
You can listen to some adorable Ugandan kids with some serious moves saying hello in a fun way in the video above!
Q: What kind of food did you eat in Uganda? Did you like it? Did you eat food that most Ugandans eat? If not, what type of food is commonly eaten in Uganda?
Our food in Uganda was interesting!  We mostly cooked for ourselves, but we only had $2 a day per person budget for food. On a typical day, we would eat eggs or oatmeal for breakfast. Cornflakes, sugar, and powdered milk were luxury foods for us!
Lunch was usually leftovers from the night before or rice and beans. Supper could be rice, beans, and cabbage or a pasta soup.
Besides, tomatoes, onions, and other vegetables we found at the market, we didn't have any other spices or flavors. We also did not have a refrigerator and it was hot, but found that most foods do not spoil, or at least our food was fine the next day. Contrary to popular belief in the U.S., it is very common for eggs never to be refrigerated. They won't last near as long, but are fine for a week or so. But once in the fridge, they should stay there!
We also received a few local meals. One of which was a "chicken" soup without much chicken. For instance, mine contained the neck of the chicken. Rice and beans were the most common meal that we ate.
Local food usually consists of meat stews served with rice (and not much meat!), chapatis (like fried tortillas), ugali (flour and water, that's it. I avoided this if I could!), and fish.
Q: Now tell me a bit about your company. Why is it called International Blessings? Can I actually buy something from you that is made in Uganda? And if I buy something that is made in Uganda, how would that help their country?
A: I have always had a heart for international missions, culture, and travel. From 2003 (age 17), until I got married in 2010, I served in 23 countries around the world. While I was in Burkina Faso, West Africa, I made friends with a local girl and she taught me how to make beautiful macrame bags. This got me to thinking how cool it would be to help her family by selling those bags in a larger market like the U.S or online.
The name came to me while in Burkina Faso. I want to be a blessing to all that I meet, and since I wanted to work with 3rd world artisans and connect them to consumers in the U.S., I thought that the name International Blessings fit my mission and purpose.
It wasn't until 2012, while I was 'stuck' at an office job, had a new baby, and hadn't traveled in 2 years that I decided I finally needed to do something about that dream!  I started selling friendship bracelets from the Philippines and jewelry that a missionary in Kenya sent me. The products I sell are mostly jewelry, including earrings, bracelets, necklaces, hair accessories. However, I also have several toys, like hand carved animals, maracas, hacky sacks. Ornaments from Israel, Peru, and Guatemala are other items I feature.
Q: Finally, how does your company help Ugandans and their economy? Can I actually buy something from you that is made in Uganda? And if I buy something that is made in Uganda how would that help their country?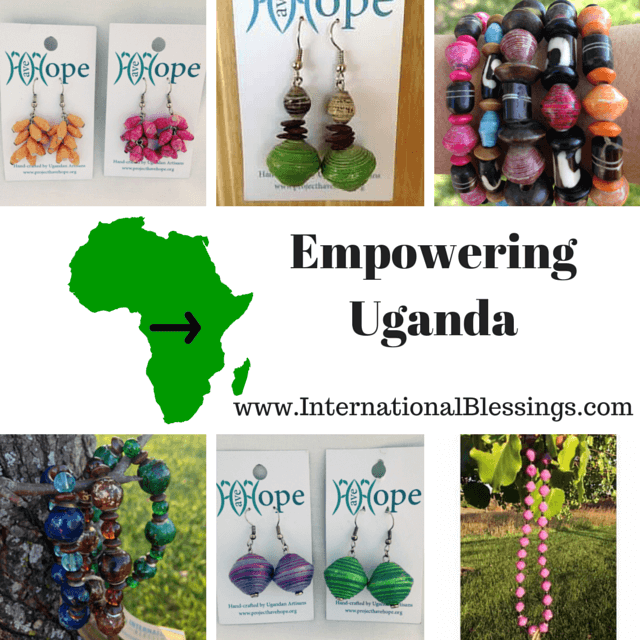 International Blessings partners with Project Have Hope, which is based in Uganda.  "Project Have Hope is a 501(c) 3 non-profit organization that seeks to empower women in the Acholi Quarter of Uganda by providing education to both the women and their children and assisting the women to establish business opportunities to promote economic stability and sustainability." This description is directly from their website.
There are currently 100 women that work with Project Have Hope. They make paper bead jewelry. These beads are made by cutting a long triangular piece of paper and rolling it tightly. They are then coated with a glue varnish and left to dry. The women then use the beads to create beautiful, unique earrings, bracelets, necklaces, keychains, and more.
Project Have Hope is so much more than just an artisan group. They are truly making a lasting difference in the lives of these women and their children. Plus, many of these women care for children that were orphaned due to HIV.
Yes, you can buy any of the paper bead jewelry that can be found in my online store. I purchase these items directly from Project Have Hope. That money is then given to the women who create the jewelry to use for food, school fees, and other needs. International Blessings is a for-profit and for-purpose business.
I set it up so that I can be an example of what a sustainable business should look like for these women and the other artisans that I work with. By doing this, not only am I being an example, but I do not have to ask for donations or handouts in order to continue. International Blessings is working hard to change the handout mindset, to an empowered mindset.
Bracelet Giveaway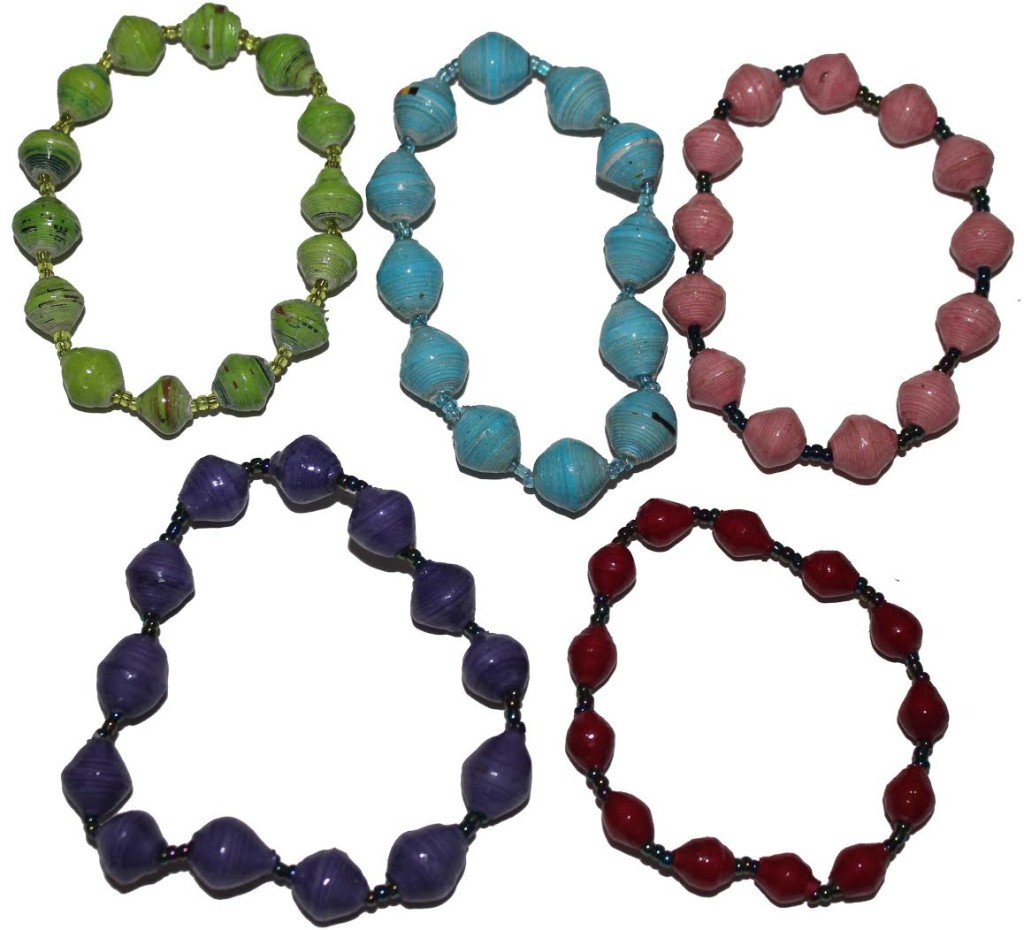 Well it has just been awesome to meet you Sarah and read your story. I love how your business selling fair trade jewelry from Uganda helps give artisans a sustainable future. International Blessings is both an exemplary business model for women you work with, and a God honoring mission that serves others.
Before we go, we need to give away a beautiful pink, handcrafted Ugandan bracelet to one of our readers. I also want to remind our readers that they can purchase fair trade jewelry, handcrafted toys, and more from your online store International Blessings. Readers can also check out your subscription service called Box of Blessings. So many options. I'm starting a mental Christmas list already!
Rules For Giveaway:
For shipping purposes winner must live in the United States