Disclaimer: This post contains affiliate links which help support Mommy Maleta at no additional cost to you
Did your grandma have a special collectibles shelf in her home? My grandma had a glass curio cabinet. Out of all the little treasures inside the cabinet, her Russian nesting dolls were my favorite. My sister and I could stack and unstack those little bowling pin shaped dolls for hours a solid twenty minutes before getting into an argument.
The best part, of course, was twisting open the second to the smallest one just for the sheer delight of peeking inside to see the tiniest doll of all resting inside her "older sister." The "baby doll" in my grandma's collection was so small that her head was painted a solid color because a painted face wouldn't fit!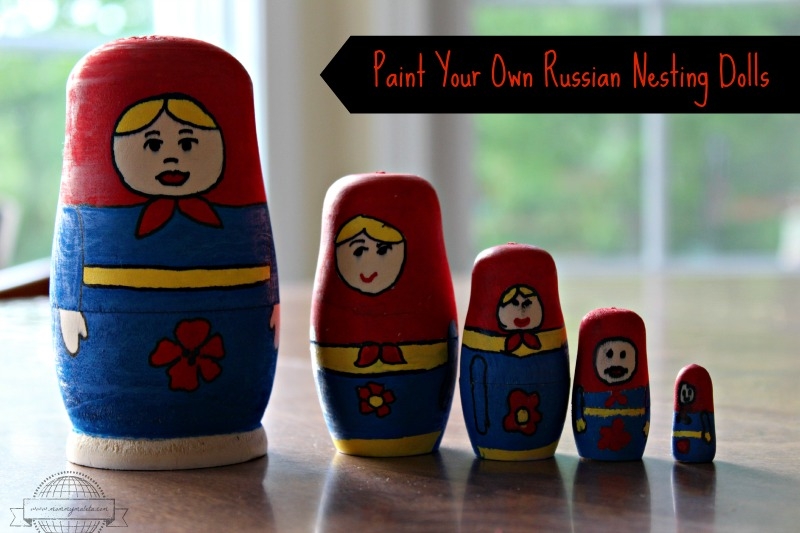 A Little Matryoshka History
I relived all those past, fun memories when my daughters and I painted our own Russian nesting dolls this week. The proper name for these little ladies is matryoshka dolls (there are various spellings). They were first made in China in the early 1800's. Then in the 1890's the idea made its way to Russia and an artist name Sergei Malyutin designed the first set of dolls to resemble Russian peasant girls.
You can find out a lot more about the history of these carved, babushka, or kerchief, wearing nesting dolls by checking out my post on the best books about Russia for kids. I learned lots of wonderful facts and traditions about Russia when I read these books. And I am now a huge fan of the darling story The Littlest Matryoshka
 by Corinne Demas Bliss.
Paint Your Own Nesting Dolls
Anyways, I better tell you how my girls and I made our own set of matryoshka dolls. It all started when I  found this set of 5 unpainted Russian nesting dolls on Amazon…
And then I saw this version of DIY dolls…
And then I had to decide which one to get. Price helps me considerably when making these kind of choices. So, even though the already drawn version looked way easier, I went with the less expensive option.  And wouldn't you know it, but I just saw that the DIY version comes with the paint. So all things considered, they're both pretty comparable price wise, when you factor in the cost of paint.
One thing that did come in handy, however, is that I used a couple Amazon gift cards to buy the dolls that I earned with swagbucks. If you haven't experienced the joy of earning swagbucks just for surfing the internet as you normally would, it is definitely worth some consideration. You can use my referral link to sign up and starting earning.
Now getting back to the paint. I'm actually glad I bought the dolls without the pre-made design because it led me to discover paint markers. These little beauties made this craft so much easier.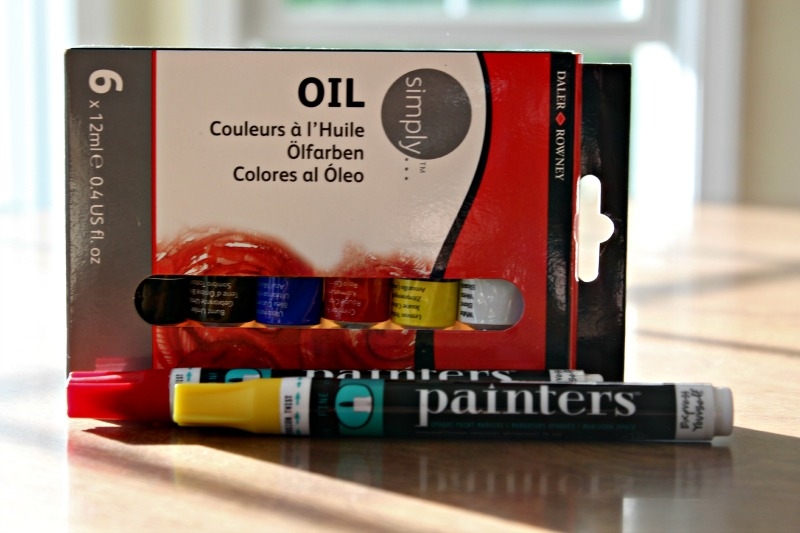 I never even used the oil paint you see behind the markers. I bought them for back up in case I needed to use it to paint areas of the dolls that required a lot of paint. The paint markers, however, worked perfectly.
The paint markers come in a variety of sizes and are sold individually or in packs. I bought red, yellow, and blue markers with fine points, and a black marker with an extra fine point. I went with the extra fine  so that we could draw the faces a little easier.
I bought the markers in the craft section of Walmart, but they are also available at Amazon. I imagine other craft stores would carry them as well.
I can't say enough good things about these markers. I am not a painter by any means and I was actually really nervous about attempting this craft with a paintbrush. The markers, however, made this project completely doable for me and my girls. So let me break this craft down for you.
Materials
one set of unpainted nesting dolls
paint markers in whatever colors you desire
newspaper to protect your work surface
a picture of a Russian nesting doll to look at when you draw your doll design – my girls and I liked the dolls we saw in this little sticker book that I purchased for $1.79 while creating this series. (For some reason the back of the book is showing up, but go ahead and click on it, and then you'll see the cover photo)
Instructions
look at this post, books, or pictures of Russian nesting dolls on the internet and choose a simple design for your doll
line your work surface with newspaper
unstack your dolls
draw the design you chose on the dolls in pencil
trace the pencil lines with the black paint marker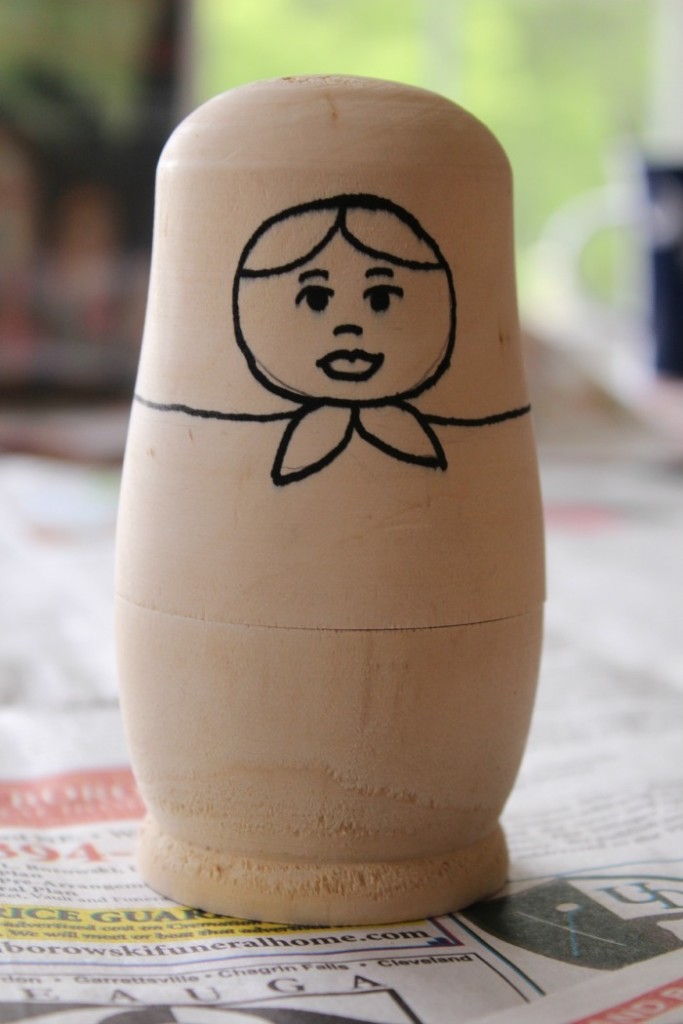 after you've completely drawn the traced the design with the black paint marker, begin painting the design with the colored paint markers
allow your doll to dry – which doesn't take very long at all with these paint markers!
take a picture of your very own set of matryoshka dolls!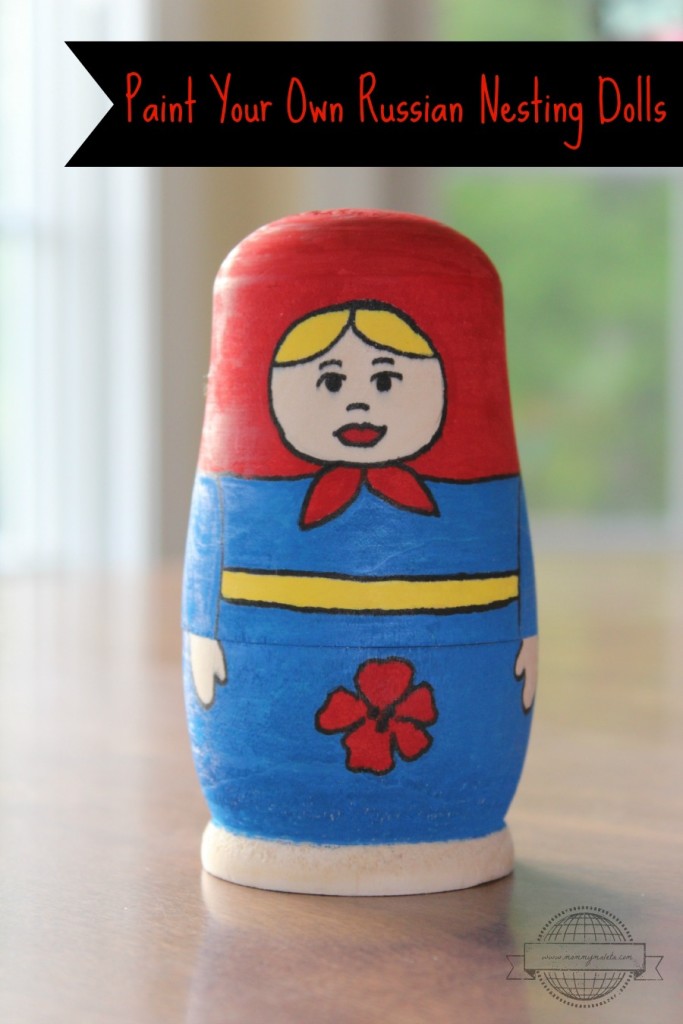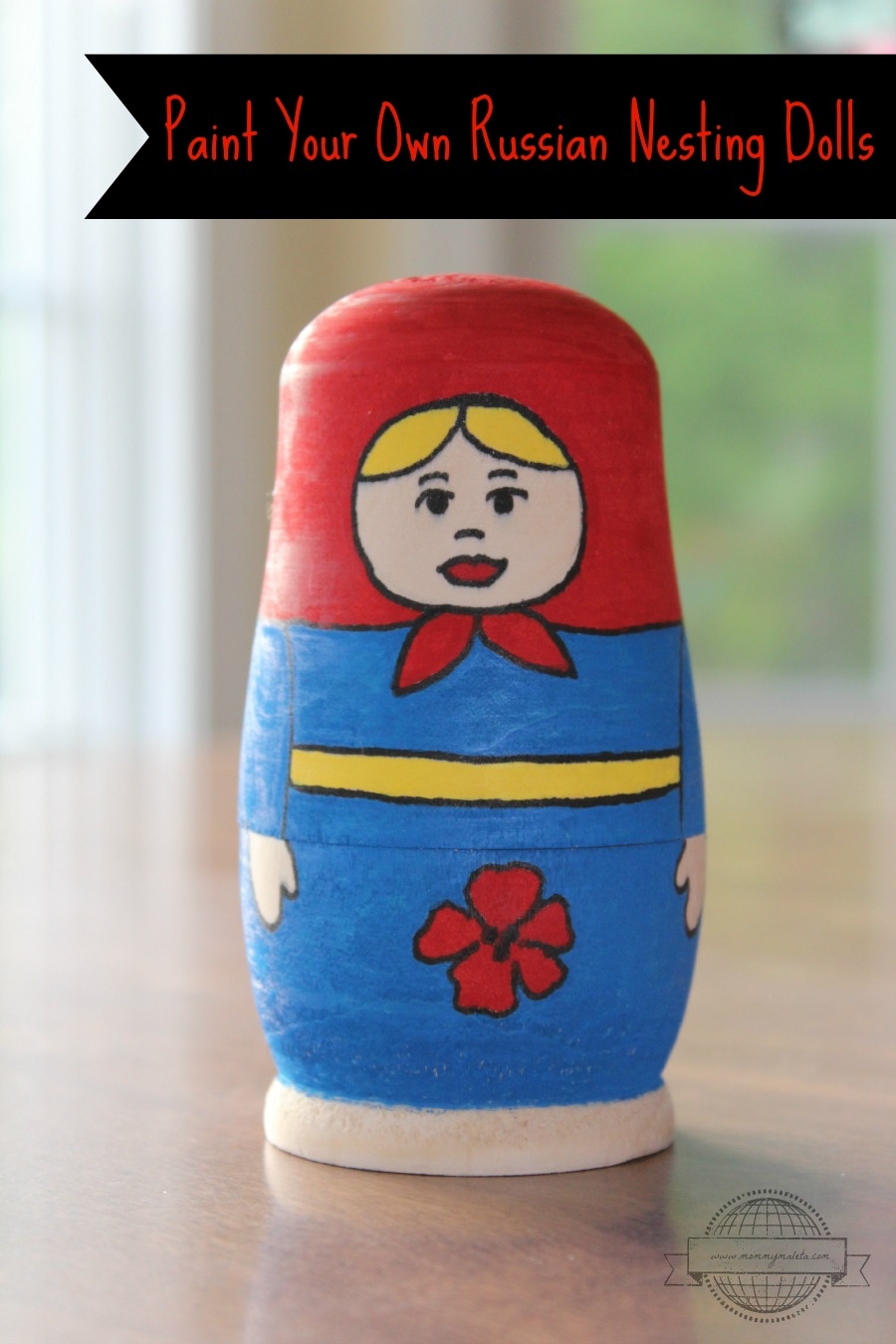 And that's all there is to it. It's a pretty simple craft. Draw and paint. Don't let the blank dolls intimidate you. I drew and erased my design in pencil several times. So it's not as if you only have one chance to get it right.
And just think, maybe one day your little grandchildren will see this craft sitting on your collectible shelf. Then you can tell them all about the time you painted your very own Russian nesting dolls…
And remember, you can learn more about the country Russia by exploring previous posts from this series.
Explore Russia | Map, Flag, & Country Facts
Meet Masha in Russia | An Interview 
Best Books About Russia For Kids
What are some interesting facts you know about Russia?
This post is linked up over at… Smart Schoolhouse , Sincerely Paula , With A Blast ,Cornerstone Confessions , Social Media Saturdays , Laugh & Learn Link Up , Castleview Academy, All Things With Purpose , Creative Kids Culture Blog Hop, Bowl Full Of Lemons, Jennifer Dawn, Strangers & Pilgrims On Earth , Mom Resource, Three Kids And A Fish