This month I read the The Legend of the Poinsettia
 by Tomie dePaola. In Mexico the poinsettia is called la flor de la Nochebuena, meaning Flower of the Holy Night. The Holy Night is, none other, than the special occasion we celebrate tonight: Christmas Eve.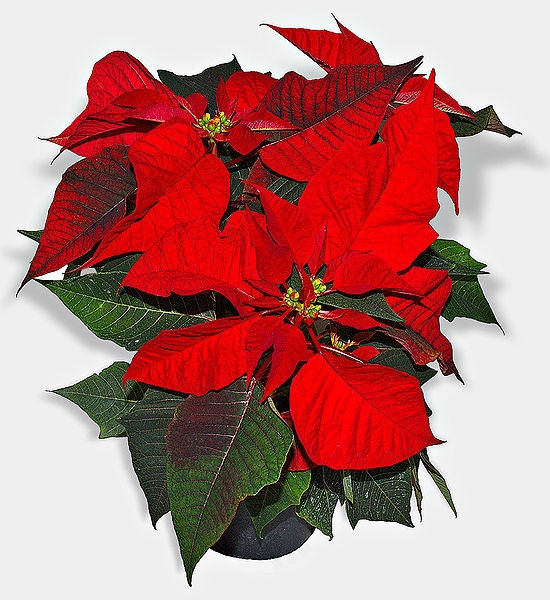 I grew up, perhaps like many of you, enjoying the plant as a potted decoration placed in homes, churches, shops etc., at Christmas time. A few years ago while bouncing along a dusty road in a red mini van in Nicaragua, I had the privilege to peer out the window and see these red beauties growing in the wild.
I think that experience made reading this story really special. This book tells the story of a little girl from Mexico who was searching for a gift to give baby Jesus for Christmas. At the end of her search she encountered an angel who showed her a gift she could bring. The little girl did not think this gift was special at all, but the angel encouraged her to bring in anyways. And in the end, her gift reveals, that giving from the heart is what truly matters.
To accompany this touching story, my daughters and I made a poinsettia ornament to share with you. I think it would be really fun to make this craft after reading this story with children at home or in a classroom.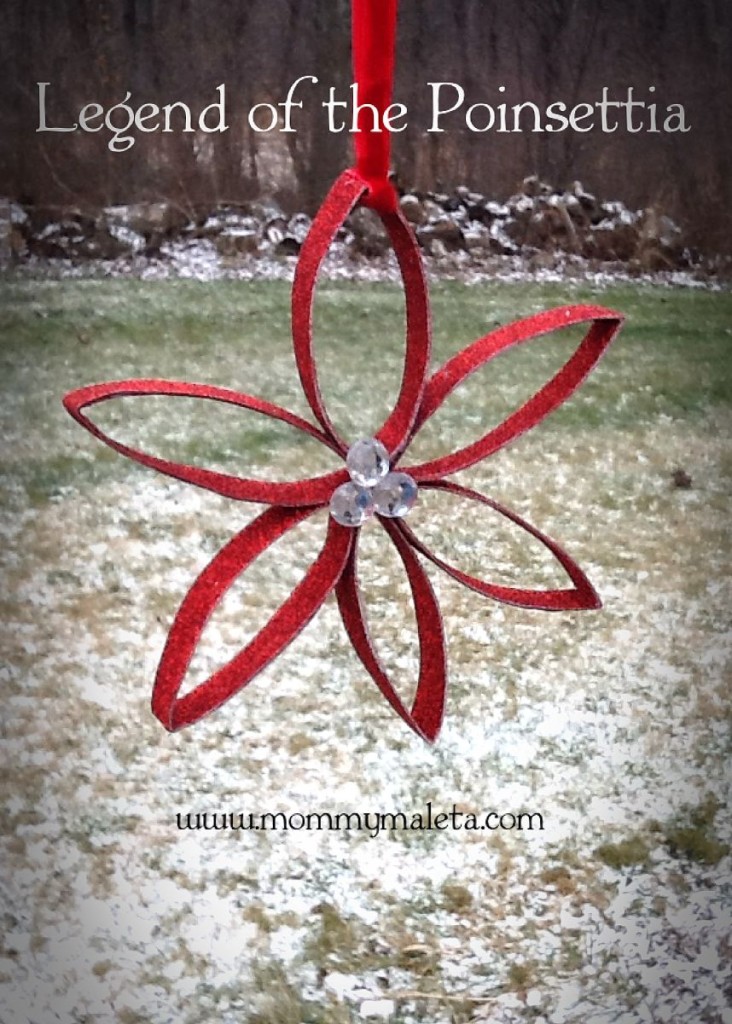 This craft is pretty simple to make because it is basically made from recycled toilet paper rolls.
Materials
2-3 toilet paper rolls
glue
red glitter or red glitter tape
glass beads, marbles or fancy stickers
red paint (optional)
ribbon
Instructions
Snip off 1/4 – 1/2 inch sections from a toilet paper roll
Flatten the sections to create petals
If desired, paint the petals you just created, with red acrylic paint
Allow the paint to dry
If using regular shake-on red glitter, paint each petal with glue and then shake on the red glitter until the petal is completely covered
I could not find regular red glitter at my local dollar store, but I found glitter tape. So I adhered glitter tape to the inside and outside of each petal
Do this for each petal and allow them to dry completely
Use a hot glue gun to glue the bottom portion of the petals together
Continue this process until the petals are all connected to form a flower
Glue glass beads, marbles or fancy stickers to create the center of the flower
Tie a ribbon around the top of one of the petals and hang from your tree!
I adapted this craft from an ornament found on Craft Klatch which includes a video tutorial you may find helpful. I found the book The Legend of the Poinsettia
 at my local library. If you can't find it, just click on the red title text, to purchase on Amazon.
I hope you enjoy this book, craft and holiday season. I wish you a warm holiday season!