"When Yoko was very small, she and her grandmother, Obaasan, fed the cranes in the pond at the end of the garden." – Yoko's Paper Cranes.
Our Japan craft in this series, origami cranes, required a lot of trial and error. In fact, we didn't even start out by making cranes. I have a couple neon origami frogs sitting next to me right now to prove it. I thought frogs were the way to go at first because my older daughter already knew how to make them. I figured it would be nice and efficient. I even took pictures of the bright colored croakers sitting in my flower bed in the backyard, while they found a little bit of shade under some leaves.

But it came time to read bed time stories one night, and I read a Japanese themed book we had just checked out from the library called Yoko's Paper Cranes by: Rosemary Wells. It is a precious story about a little kitty named Yoko whose grandparents introduce her to the beautiful cranes that stay in their garden a few months each year, then migrate, but eventually come back. Yoko's grandfather teaches her to make origami cranes which become a special memory she carries with her when she moves away. I'll let you read the rest on your own but, sufficed to say our craft quickly became, "Bye bye froggies. Hello cranes!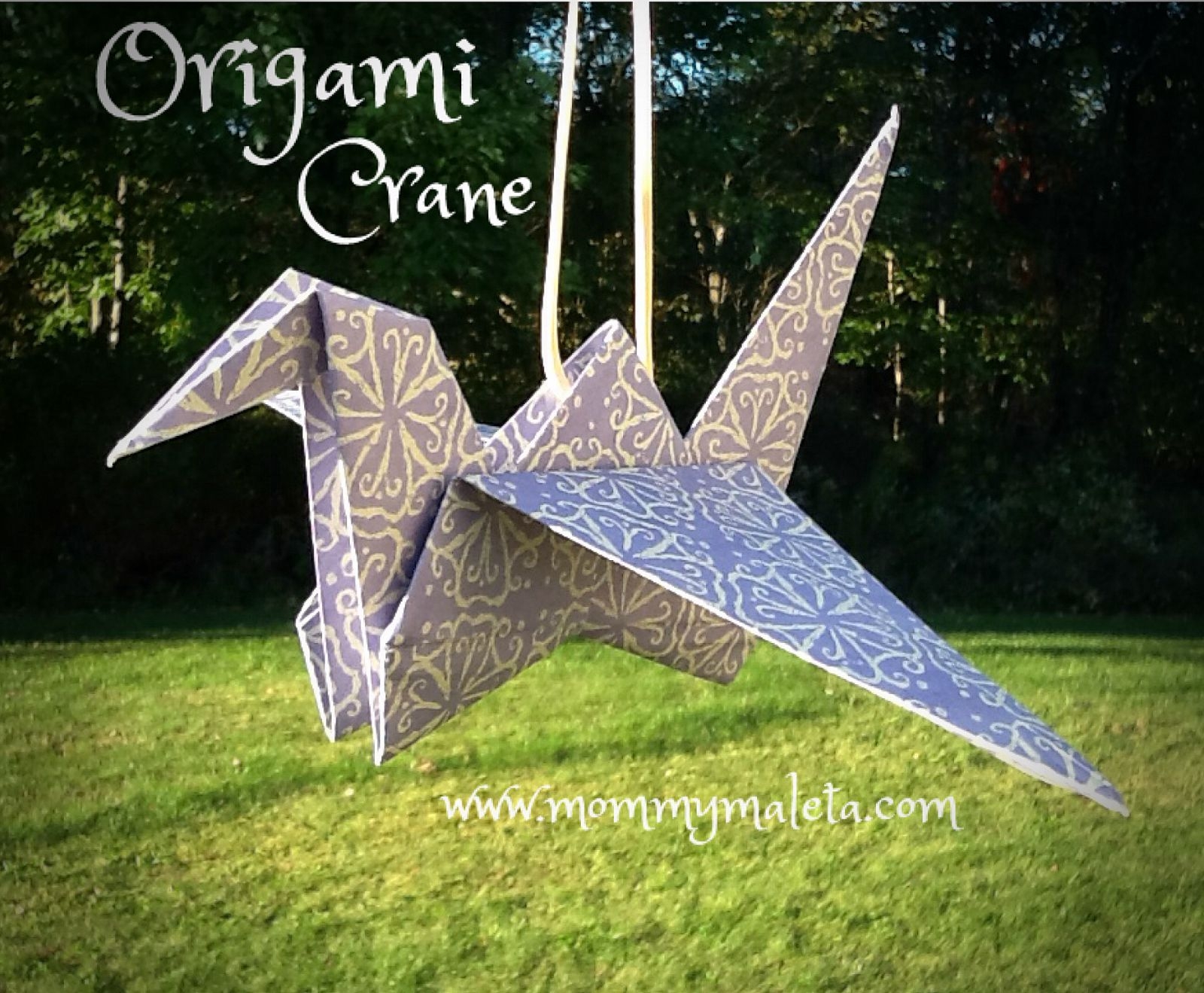 Choosing the right paper to use was part of the trial and error process I mentioned earlier. The tutorials that the girls and I watched suggested using square pieces of paper. A traditional piece of origami paper is a 6 x 6 inch square, but any size is fine as long as the paper is square. I wanted to start out using paper we already had on hand. So we used some of the 8 1/2 x 11 inch paper I had left from the froggies and cut it into squares.
Then the tutorial nightmare began. For some reason I just could not get the first major fold. I kept stopping the video to replay the section with the tricky fold. When I stopped the video, however, that kept breaking my older daughter's concentration. In the end, since both my daughters "got" the tutorials, they followed the tutorial and made their cranes, and then taught me how to do it. Our first batch of cranes looked like this.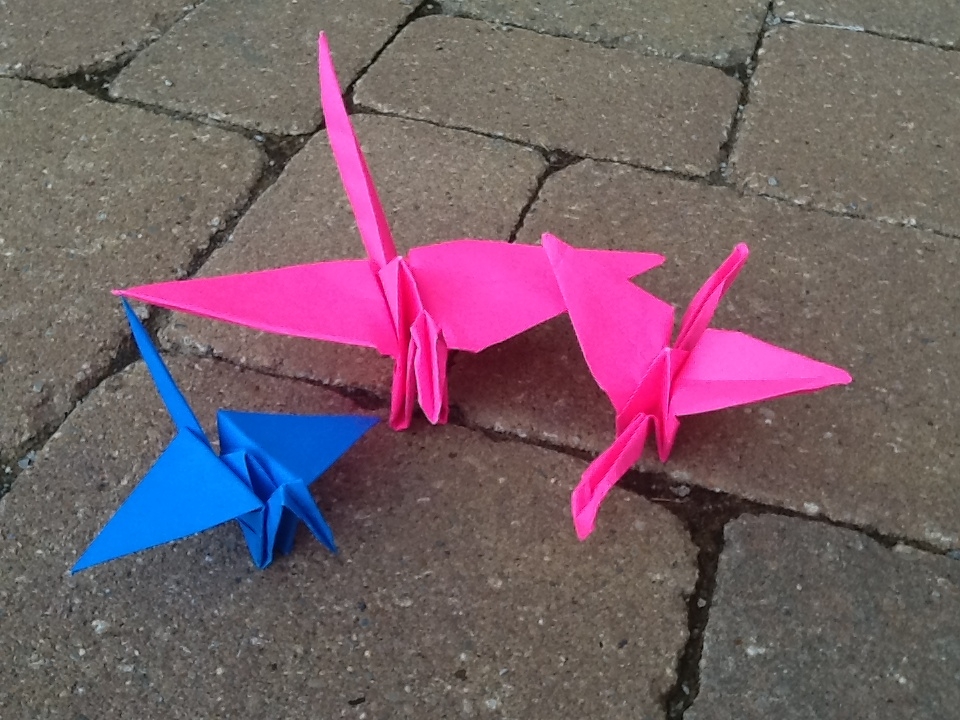 They were OK, but they weren't really elegant looking. They looked more like pterodactyls. I had seen pictures of cranes made out of floral paper before and thought they were pretty. So I really wanted to try the floral paper route next. I looked on Amazon for origami paper. I knew I could order it and have it arrive in 2 days because we have Amazon Prime, but I kept thinking, "I must have some kind of paper I can use." And then the idea struck. The bonus room. It's our room above the garage where everything goes if we aren't sure what to do with it.
And (insert Hallelujah music) there it was. Scrapbook paper. I picked up the pack and quickly sorted through it. The first sheets were patterned, but not exactly floral. The next sheets were closer to floral, but still not exactly what I wanted. And then, kind of like Goldilocks tasting her 3rd bowl of porridge, the next sheet was just right.
But was it a square? A quick scan of the dimensions on the outer wrapping confirmed that, yes, it was indeed a square. A 12 x 12 square, as a matter of fact, which I think turned out nicely. I personally prefer this larger size. It was easier to fold, especially for the smaller areas of the crane like the head and tail. And now that you know my paper of choice, I'll move along to the instructions.
Materials
Square sheet of 12 inch floral scrapbook paper or traditional origami paper.
(printer paper & other square sizes work too)
Ruler or some other tool to glide along the creases of folds to make them nice and crisp
Scissors if you need to cut rectangular paper into a square
Ipad, computer or other device for watching tutorial
Instructions
Watch this

Rob's World YouTube Tutorial

on how to make an origami crane. There are lots of tutorials out there. We watched a few of them but liked this one best. But by all means, google away, and find another if it is more helpful for you.
I included some product links above if you want to order any of the materials suggested for making this craft. I found the book Yoko's Paper Cranes at my local library. There are some used and collectible copies on Amazon but no new editions so I am guessing they are out of print. I was excited to find that Yoko is a character in a whole series of stories. So I plan on checking the library for more.
I really hope you enjoy making origami cranes. I did not have much origami experience prior to making the cranes for this post. I did learn how to make some origami bats when I was little, which is ironic, because I really do not like bats due to several encounters with the scary looking things. I am curious, other than these cranes…
Have you ever made other origami creations? Please leave a comment and let me know what you made!
  This post contains affiliate links which help support Mommy Maleta at no additional cost to you.