Who knew that a pizza box could be transformed into a soccer stadium?  (FYI:  soccer is known as football in most countries)  Add 2 players, 2 straws and a cotton ball and it becomes a full fledged table top game!  The rules are simple:  2 players stand at opposing ends of the field, which in this case is a pizza box with green poster board fitted inside to mimic a field.  Each player holds a straw and blows into it trying to send the cotton ball to the opposing side to score a GOOOAAALL!!!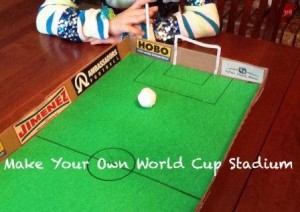 I chose to keep my pizza box in one piece, but to add to the fun, the pizza box can be cut along the goal lines to create a rectangular hole.  The pizza box can then be set on a stack of books so that the cotton ball drops into the hole when a goal is scored.  A bit more like foosball that way.
Here a few more detailed instructions on how to make your own stadium.
Materials Needed:
Green poster board
Pizza box
Scissors
Markers
Pipe cleaners
Ads from newspapers or magazines and glue or tape
Cotton ball
To make the field, trim green poster board to fit inside an opened pizza box.  Next, use markers to draw the lines of field as shown is the photo above.  Shape pipe cleaners to look like goals and glue onto box in the appropriate position.  Cut out ads in rectangular shapes and glue them along the sides of the box to make them look like ads on a professional field.  Optionally, cut holes along goal box and stack pizza box on books as mentioned above.
Want to find out even more about Brazil and the history of the World Cup and famous soccer/football players? Check out these books:
Please note these are affiliate links which help support this blog at no additional cost to you, but these are also books I found at my local library!
The 2014 FIFA World Cup has now ended. But don't be sad, the next World Cup in 2018 is practically around the corner! 😀 Which country will you support?
This post is part of the Thought Spot Weekly Blog Hop this week!