Each month at Mommy Maleta we explore the world one suitcase at a time alphabetically. So our very first month we learned about Australia because it begins with the letter A. Next we learned about Brazil because it begins with the letter B. See what I mean? Great.
We spend 4 weeks exploring each feature country. The routine looks like this…
Week 1 – map, flag, country facts
Week 2 – interview
Week 3 – craft
Week 4 – recipe
This week were are traveling to a country that begins with the letter "R". This enormous country spans both the continents of Europe and Asia. We are ready to EXPLORE RUSSIA.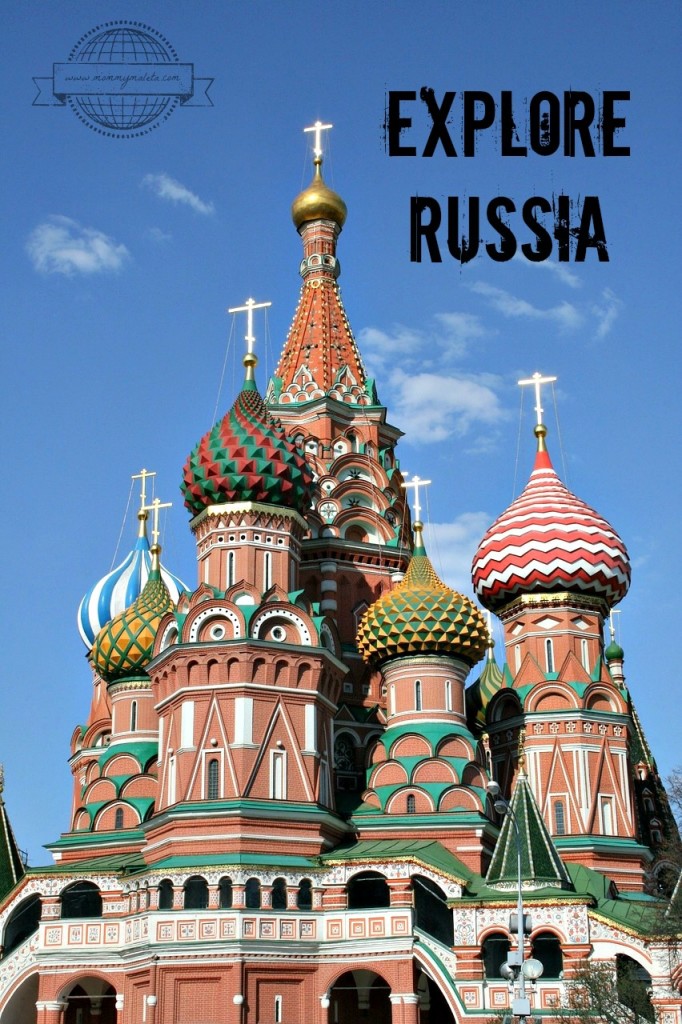 Russia's National Flag

Country Facts
1. Size: 6,601,631 square miles or 17,098,242 square kilometers
2. Population: 142,500,482
3. Capital City: Moscow
4. Largest Religion: Christianity 66.9% (Operation World)
5. Currency: Russian ruble (RUB)
6. Language: Russian is the official language. There are also several minority languages.
7. Highest Point: Gora Elbrus at 5,633 meters. It is the highest point in Europe.
8. The Cathedral of Vasily the Blessed is commonly called St. Basil's Cathedral. It was commissioned by Ivan the Terrible and built between 1555-1561. The church is located on the edge of the Red Square and has been part of the Moscow Kremlin and Red Square UNESCO World Heritage Site since 1990, but it is not the Kremlin itself, even though it is commonly mislabelled.
9. The Moscow Kremlin is usually called the Kremlin which means "fortress inside a city". It was originally a wooden fortress that was built in 1156. It is now…
A huge complex of government buildings
The official residence of Russia's president who is currently Vladimir Putin
Home to many of Russia's most valuable artistic and historical treasures
10. The State Hermitage Museum is one of the oldest and largest culture and art museums in the world. Six historic buildings make up this complex which is in Saint Petersburg, Russia. One of these buildings, called the Winter Palace, was the former residence of past Russian emperors.
I am actually part Russian. I remember watching a documentary series about the Hermitage when I was little that featured room after room filled with artwork. I am pretty sure my dad bought the DVD collection of that documentary series.
Just For Fun
Just for fun I thought I'd share one Russian birthday tradition I read about while doing research for this series. Apparently, many children receive a birthday pie, instead of a cake, that includes a birthday greeting carved into the crust. Sounds good to me!
I hope you enjoyed exploring Russia with me today. I know I learned a lot and I hope you did too. Be sure to stop by next week when I'll be sharing an interview with a special guest from Russia.
What fact about Russia did you find most interesting today?
This post is linked up over at… Smart Schoolhouse , Sincerely Paula , With A Blast ,Cornerstone Confessions , Social Media Saturdays , Laugh & Learn Link Up , Castleview Academy, All Things With Purpose , Creative Kids Culture Blog Hop, Bowl Full Of Lemons, Jennifer Dawn, Strangers & Pilgrims On Earth , Mom Resource, Three Kids And A Fish