Today we are traveling from Europe to Asia to unpack our suitcases in a country with the 2nd largest population (fyi: number of people) in the world! In fact, 1 out of every 5 people in the world live in this country, the Himalaya Mountains run through it, and its national symbol is the Bengal Tiger. We have arrived in India.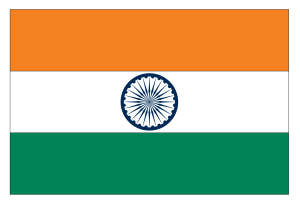 Country Facts
1. Size: 1,269,800,359 Square Miles (about the size of Alaska, Texas & California combined)
2. Population: 1,220,800,359 (Yes, you are reading correctly, that is over 1.2 billion people.)
3. Capital City: New Delhi
4. Religion: Hinduism 74.33%, Christians 5.84%, Evangelicals 2.2%
5. Currency: Indian Rupee (INR)
6. Languages: Constitutionally 22 official languages. The main ones are Hindi, Bengali, Telugu, Marathi, Tamil and Urdu. English is a subsidiary official language. Learn some phrases in Hindi by watching this 2 minute video.
7. Popular Sites To Visit: Taj Mahal, Varanasi, Ajanta Caves, Jaisalmer, Harmandir Sahib, Kanha National Park
8. Largest Mountain Range: The Himalayas

9. National Symbol: Bengal Tiger
10. Mahatma Ghandi is famous because of the important role he played in gaining India's independence.